A Caring Dental Team You'll Absolutely Love
Meet our experienced health professionals at our Pitt Meadows Dental Clinic, who are committed to providing you with comfortable treatment and an overall pleasant experience you'll just love. Highly competent and compassionate, our Pitt Meadows and Maple Ridge dental team will warmly welcome you with a friendly approach, making you feel comfortable prior to, during and after your dental treatment. We speak multiple languages and like to laugh with our patients, making the environment we work in warm and friendly. If you are looking for a Pitt Meadows dental clinic, and a dental team also serving Maple Ridge dental patients, to look after your oral health care, we welcome you to contact us.
Book an Appointment
The Doctors
Meet the experienced health professionals who are committed to providing you with a pleasant visit and comfortable treatment. Highly competent and compassionate, our team can adapt to all cultures easily, and works with a friendly approach, making you feel comfortable prior to your dental session. We speak multiple languages and laugh a lot. Schedule a consultation at Meadows Dental Group today!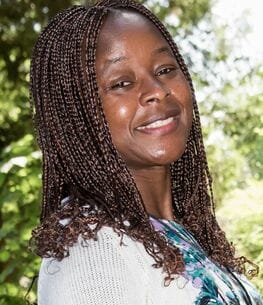 Dr. Gisèle Awondzeko Fouellefack
Dr. Gisèle Awondzeko Fouellefack is the current owner of Meadows Dental Group. She studied dentistry in the renowned university of Göttingen in Germany and graduated with distinction in 2002. In 2005, she completed her doctorate degree in the department of Maxillofacial Surgery of the same university. She was granted the Alex Motsh Award for excellent practical skills and attitude toward her patients and colleagues. She also received the Golden Hedstrom File from the German dental journal Endodontie for excellency in the field of root canal treatments.
Open minded, curious, and eager to see more of the world, Dr. Fouellefack decided to take her young career to Norway, where she lived and practiced dentistry for 9 years, before continuing her journey to British Columbia, Canada in 2012, after completing the Canadian Dental Equivalency exams and National Dental Board Exams, passing with excellent results.
She started at Pitt Meadows Dental clinic in 2013 as an associate dentist and quickly built a very strong connection with her patients from Pitt Meadows and Maple Ridge. This led to her taking over the practice in 2016, when the previous owner retired. After a very challenging transition time, she can now say that she is very happy and grateful for the Pitt Meadows and Maple Ridge dental team she built around her, very proud of what they have accomplished together so far and is excited for what is yet to come.
Dr. Fouellefack is very knowledgeable and very experienced with all aspect of modern dentistry, from the simple filling to the most complex root canal treatment, implant, or gum grafting surgery. She likes to explain all the options to her patients and allows them to make informed decisions. She is always eager to learn more and remain updated, so continues with her ongoing continuing education courses in general dentistry; in particular, the area of implant and gum grafting surgery.
Originally born and raised in Cameroon, Dr. Gisèle Awondzeko Fouellefack moved to Europe at younger age. She feels very blessed to have lived in different continents. It humbles her and allows her to connect and relate to other people regardless of their background. She finds her job very rewarding. She wakes up every day ready to go to work, knowing that she will care for her patients well being, while sharing a lot of laughter with them. She is a proud mother of two very active and dedicated young girls. Besides travelling, she also loves outdoor activities and enjoys spending time with friends and family. She is fluent in English, German, French, Norwegian, and Dshang.
While she's giving her all to help families achieve optimal oral health, she believes in giving back to the community to make the world a better place. Dr. Gisèle Awondzeko Fouellefack looks forward to welcoming you to Pitt Meadows Dental clinic.
The Front Office Team
Urte, Office Manager

"I love working at Meadows Dental Group, because everybody is willing to go the extra mile to make sure our Pitt Meadows and Maple Ridge dental patients are looked after and leave the office happy." Urte is fluent in English and German, she is a horse lover and participates in local horseback riding competitions.

Jennifer, Receptionist

Jennifer loves to help others and will always greet you with a smile.
She successfully completed her certificate for dental administration this year and is looking forward to applying all she has learned. Jennifer enjoys caring for Pitt Meadows and Maple Ridge dental patients at the Pitt Meadows dental clinic. Her favourite things include her family and creating unique crafts.
Dental Hygienists
Cristina Taras, Dental Hygienist

Cristina is a 2007 graduate of the Vancouver Community College Dental Hygiene Program. With 16 years of hygiene experience , she has a gentle touch, pays attention to detail and is committed to maintain high and current standards in the profession of periodontics. Born and raised in Romania, Cristina moved to Vancouver with her husband in 1999.
Outside of the dental office , Cristina loves to ski, cook and garden with her children , and hike with her dogs.

Rebecca Murray, Dental Hygienist

Rebecca is passionate about being a dental hygienist and loves helping people. She graduated from Vancouver Community College in 2022 and is enjoying working with her patients to improve and maintain their oral health . With her caring nature and friendly attitude , she puts her patients at ease.
Outside of work , Rebecca likes going for walks, skiing, travelling and spending time with her friends and family.
Dental Assistants
Jamie Evans, Dental Assistant

Jamie is a new CDA graduate from Vancouver Community College and recently became certified as a dental anesthesia assistant. She loves her job at Meadows Dental Group and enjoys interacting with patients and colleagues.
Jamie loves the outdoors and being in nature. She enjoys spending time with family, friends, and walking her dog. Jamie always greets people with a friendly smile and tries to make patients feel welcome and comfortable. She is looking forward to future opportunities to upgrade her education and have a lasting career as a certified dental assistant.

Caitlin Morrissey, Dental Assistant

Caitlin completed her education and became a Certified Dental Assistant in January 2020. Her early career was heavily influenced by the pandemic as she had to navigate being a newly graduated CDA as well as adapting to new safety and sterilization protocols. She spent time working in offices that specialized in both Oral Surgery and Endodontics before settling at Meadows Dental Group which allows her to use a variety of her skills. She is passionate about patient care and continuing education to improve her skill set. She has completed the Canadian Dental Anaesthesia Assistant Certification (CDAAC) Course with the intent of taking additional courses in the future. In her free time she loves to go for hikes with her dogs,
play board games, and spend time with her friends and family.
Friendly and Comfortable Atmosphere
Our Pitt Meadows Dental clinic has a friendly atmosphere, ensuring your comfort throughout the journey of your treatment.
Book an Appointment